Patti McGahey, President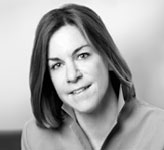 Patti has spent her entire career working in the healthcare sector, attracted by the challenge and innovation of this vital industry. In June 2001, recognizing the unique value of a more personal and responsive approach to executive recruitment, Patti founded the McGahey Group.
Before launching her business, Patti spent eight years at a national firm, specializing in retained executive recruitment for organizations in all sectors of the healthcare industry. Prior to her move into recruiting, Patti worked in management at Thomas Jefferson University Hospital and before that at Keystone Health Plan East, a subsidiary of Pennsylvania Blue Shield. Throughout her career Patti has led searches for a broad spectrum of organizations including academic medical centers, large non-profits, managed care organizations, integrated delivery systems, associations and technology companies.
Patti embraces challenge and adventure in her personal life. She loves the outdoors and has traveled extensively. Extending her commitment to the values of leadership and service, Patti currently sits on the advisory board of Outward Bound USA. As an OB member she has led a sea kayaking expedition in the Sea of Cortez and participated in treks to Kilimanjaro, Everest Base Camp, Patagonia and the Inca Trail. Patti holds a BS in Health Care Administration from Ithaca College in New York.
Contact Patti at:
pattim@mcgaheygroup.com
220 E. 65th Street, 19th floor, New York, NY 10065
212.750.3556